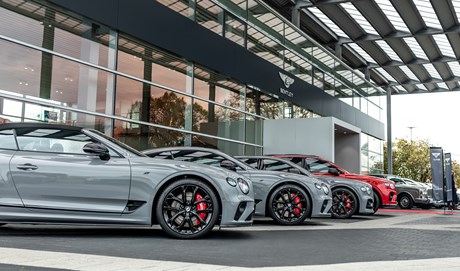 BENTLEY DÜSSELDORF LAUNCHES YEAR-LONG CELEBRATIONS MARKING 20TH ANNIVERSARY MILESTONE
Düsseldorf showroom at the heart of Bentley's thriving regional network
20th anniversary event highlights British marque's European strength
Rare collection of Bentley cars old and new on display in futuristic glass showroom with a focus on skills and craftsmanship of Bentley's in-house coachbuilder Mulliner
Exclusive Bentley Mulliner Bacalar and classic Bentley Corniche Coupé by Mulliner Park-Ward take centre stage
Sporting and stylish S range reflects Bentley's driver-focussed appeal
(Munich, 08 November 2022) Bentley Düsseldorf has begun a year-long celebration to mark the 20th anniversary of its flagship German showroom. The futuristic, glass cube building is representative of the British marque's thriving European region, a solid network that now consists of 70 retailers in 35 different markets.

Bentley sales were up 18 per cent in Europe during the first nine months of 2022, in part due to the personalisation options available through Bentley Mulliner. The skills and craftsmanship of the world's oldest coachbuilder will therefore play a leading role in the Düsseldorf anniversary celebrations over the next 12 months.

Among a unique collection of Bentley models old and new on display at the 460m2 showroom is the open-top Bacalar, the most exclusive and bespoke Bentley of the current era. Handcrafted by Bentley Mulliner, the Barchetta design, driver-focussed two-seater is the ultimate in open-air luxury. Just 12 examples of this distinctive masterpiece have been coachbuilt at the home of Bentley in Crewe, England, using sustainable, ethically-sourced materials.

Alongside the Bacalar is the classic equivalent: a 1978 Bentley Corniche Coupé by Mulliner Park-Ward. The exquisite grand tourer is painted Shell Grey and believed to be one of just seven examples built in left-hand drive form. The graceful two-door sedan symbolises why Mulliner has always existed to respond to the requirements of Bentley's most discerning customers.

Complementing this brace of rare cars is the full range of current Bentley S models, including the Continental GT and GTC S, Flying Spur S and Bentayga S. The S family of luxury Bentleys focusses on driving performance and visual pleasure through a multitude of enhancements to the exterior design, interior specification and dynamic systems.

Balazs Rooz, Regional Director Bentley Europe, commented:

"Celebrating a 20 year anniversary and strong work with a retail partner is always a moment of pride, reflecting the strong collaboration, trust and support between a retail partner and the brand. The success of Bentley Düsseldorf highlights the importance and success of Europe, but also specifically the German market where Bentley is represented by twelve dedicated retail partners. Germany counts some of the most discerning customers and the team work hard to deliver an extraordinary service and customer experience, as Bentley Dusseldorf has been doing it for twenty years."

Guido von Spee, Managing Director Bentley Düsseldorf since 2002, added: "We are really proud to look back at 20 exciting years representing Bentley Motors in Düsseldorf. We started our celebrations for this special anniversary with our unique 'Bentley & Friends' event last weekend but many more exciting activities to follow."

- ENDS -

More information about the Bentley Mulliner Bacalar: https://www.bentleymedia.com/en/models/bacalar

More information about the Q3 financial results: https://www.bentleymedia.com/en/newsitem/1389-bentley-reports-highest-ever-third-quarter-results

Notes to editors

Bentley Motors is the most sought-after luxury car brand in the world. The company's headquarters in Crewe is home to all of its operations including design, R&D, engineering and production of the company's five model lines, Continental GT, Continental GT Convertible, Flying Spur, Bentayga and Bentayga EWB. The combination of fine craftsmanship, using skills that have been handed down through generations, alongside engineering expertise and cutting-edge technology is unique to UK luxury car brands such as Bentley. It is also an example of high-value British manufacturing at its best. Bentley employs around 4,000 people at Crewe.