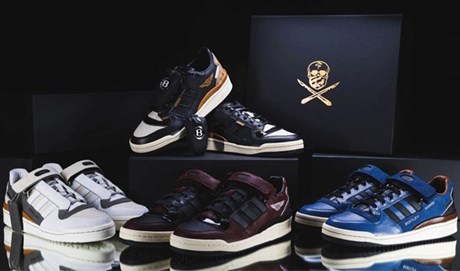 'THE SURGEON' UNVEILS BESPOKE LIMITED EDITION BENTLEY SNEAKERS
Bentley and famed shoemaker 'The Surgeon' collaborate on a multi-faceted project – bespoke adidas Forum Low sneakers
Limited run of 10 pairs of bespoke sneakers, all currently reserved by Mulliner clients and collectors
Three pillars of Bentley product range reflected in unique sneaker and matching car liveries
Dedicated to bespoke craft and design through a lens of high-fashion
1-of-1 Bentley x The Surgeon vehicle to be unveiled at Art Basel Miami with accompanying pair of 1-of-1 Bentley x The Surgeon adidas Forum Low sneakers
(Crewe, England, 17 November 2022) Bentley Motors is today announcing its collaboration with leading force of the customized shoe industry Dominic Ciambrone, known as The Surgeon, to create a limited-edition line of Bentley-inspired sneakers, reserved by Mulliner clients and collectors. The collaboration brings together two icons of design, each known for their own blend of craftsmanship and unparalleled style, to create exceptional and unique fashion pieces. Bentley will unveil the 1-of-1 Bentley x The Surgeon vehicle next month during design week at Art Basel Miami to illustrate the collaboration. Alongside the car, one buyer will receive a matching pair of 1-of-1 sneakers – the 'Bentley x The Surgeon adidas Forum Low.' Interested parties should inquire to their local US dealers for purchase information.

A self-taught creative and maker, Dominic's craftsmanship skills and design sensibilities focus on the ability to combine high fashion with street culture. In utilizing his eye to blend the intersection of these two worlds, he has successfully pioneered a unique shoe category. Similar to Bentley's ability to merge sustainability and innovation, Dominic famously reimagines and fuses sneakers with ultra-premium materials, creating his own inimitable style.

The Bentley x The Surgeon collaboration began in early 2022 when Dominic visited the Bentley campus in Crewe to immerse himself in the luxury British brand and explore the variety of materials, finishes and bespoke elements used throughout the creation of each and every Bentley. He tapped into the coachbuilding division of the brand, Bentley Mulliner, to realize additional creative details and bespoke elements to his designs, with exquisite direction.

Each of the limited-edition, handcrafted sneakers boasts unique facets including, but not limited to, Bentley's signature diamond quilting, cross-stitching found on the steering wheel, and premium hides identical to those used to trim Bentley's unrivalled interior designs. These beautiful elements combine with The Surgeon's signature aesthetic and skull-and-scalpel monogram.

Dominic and the Bentley Mulliner team worked to create pairs of sneakers to embody the variety in the Bentley model range. Harnessing the characteristics of three families of cars, the identifying sneakers showcase special colors unique to their core values:
A performance focus, reflecting Bentley's S and Speed ranges. Represented by a Titan Grey and Cricket Ball deep red color palette, this shoe mimics the performance-ready athletic stance of the Continental GT Speed Convertible. The car is the very pinnacle of performance open-air grand touring, and defines the most dynamic road-going Bentley convertible ever made, with no compromise to comfort or luxury.
A wellbeing focus, as per Bentley's new Azure range of models. The Portofino blue Bentayga Extended Wheelbase Azure typifies the range, providing Bentley customers with a curated selection of features designed to enhance the well-being and comfort of the vehicle's occupants, making every journey a relaxing experience regardless of distance. Complementing the calm-colored exterior, the shoe is highlighted with Saddle colored details inside.
A pinnacle design to match the upcoming bespoke Mulliner collaboration car – a stealth Beluga (Black) and Anthracite (Dark Grey Metallic) exterior with complementing Linen and Beluga interior – with more information to be revealed in December.
Christophe Georges, President & CEO, Bentley Americas, comments:

"Creativity and bespoke design is consistently woven into our DNA and has been since 1919, especially as it relates to our private coachbuilding division of Mulliner. Connecting and producing with a likeminded creative like The Surgeon is not only rewarding but also exciting to watch as we support the next generation of diverse craftspeople who share similar brand values."

Dominic Ciambrone comments:

"Growing up, I was building, painting, sewing and not just shoes, it was anything I could get my hands on. This is a very special moment for The Surgeon brand and to showcase our creativity in a new light collaborating with Bentley. They are at the top of their craft and understand luxury and craftsmanship at the highest level as we do— it's very exciting to partner with them and bring these visions to life."

- ENDS -

Notes to editors
About The Surgeon: Founded by Dominic Ciambrone, TheSurgeon is a Los Angeles-based collective of creatives, built to inspire creativity, further the industry and push the unique and timeless craft of custom shoe making and design. By offering a wide array of custom-tailored solutions – from design and development to integrated marketing and branded experiences – we strive to invigorate our clients at the highest level. Based on our philosophy and dedication to the craft, we don't compromise on materials or time. The products we create are made to last and made to wear.