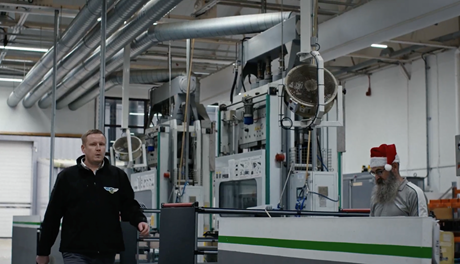 PERFECTLY IN TUNE - THE BENTLEY ORCHESTRA
Bentley releases its own, unique version of The Nutcracker
Music of Christmas classic created entirely from sounds of the Bentley workshop
Continues tradition of Bentley's creative Christmas celebrations
(Crewe, 9 December 2022) A version of that Christmas classic, The Nutcracker like no other – created entirely from the sounds of the various skilled engineers and craftspeople at work in the Bentley factory.

From the snip of leather scissors to the hum of the sewing machines, many of the unique sounds from Bentley's carbon neutral factory have been utilised to produce the new version of this Christmas classic.

Other sounds from this blend of traditional skills and modern technology include wheel nut guns, paint sprayers, electric windows being tested, doors opening and closing, and the many parts of a Bentley being slotted, screwed and stitched into place.

At first light we hear birds singing over the solar panels of the factory and to conclude, there's a contribution from the sound that warms every engineer and craftsperson's heart – the roar of the kettle and the tinkle of a teaspoon in a mug.

Mr. S.C. Lause, Director of Elves, Northern Europe comments:

"When you walk around the factory it's not just what you see, it's what you hear that is so distinctive.

"So, it occurred to me that creating the Bentley Orchestra would be a unique way to celebrate the extraordinary skills of Bentley craftspeople as well as showcasing their modern sustainable future."

The Bentley Communications team wishes all of our media friends a very Merry Christmas, a Happy Holiday season and a restful break. We look forward to seeing you in 2023!

- ENDS -

Notes to editors

Bentley Motors is the most sought-after luxury car brand in the world. The company's headquarters in Crewe is home to all of its operations including design, R&D, engineering, Mulliner and production of the company's five model lines, Continental GT, Continental GT Convertible, Flying Spur, Bentayga and Bentayga EWB. The combination of fine craftsmanship, using skills that have been handed down through generations, alongside engineering expertise and cutting-edge technology is unique to UK luxury car brands such as Bentley. It is also an example of high-value British manufacturing at its best. Bentley employs around 4,000 people at Crewe.