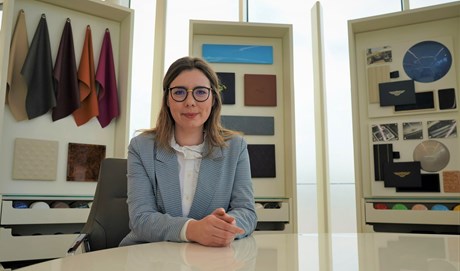 BENTLEY APPOINTS NEW HEAD OF SUSTAINABILITY COMMUNICATIONS
Stefanie Lackner to head sustainability and D&I communications at Bentley Motors
Will help to communicate Bentley's Beyond100 strategy to become a leader in sustainable luxury mobility
(Crewe, 3 March, 2023) Bentley Motors today announced the appointment of Stefanie Lackner as its new Head of Sustainability Communications, reporting directly to Wayne Bruce, Director of Communications. Joining from Audi AG, she will work closely with the Bentley Board of Management, the leadership team and regional networks to shape communications around environmental, economic and social sustainability, as well as helping to increase understanding of the value of diversity and inclusion across the company.

Stefanie is an experienced communications expert, skilled in executive speech writing, social media and strategic planning. She has a strong expertise in C-suite communications and was previously responsible for internal management communications at Audi AG.

Commenting on Stefanie's appointment, Wayne Bruce, said:

"I am delighted to welcome Stefanie to the team in not only what is a very important role, but equally at such an exciting time. Our Beyond100 strategic ambitions transform our company with the electrification of our entire model range, increasing the amount of diversity and feeling of inclusion amongst our colleagues, and becoming a fully carbon neutral business by 2030. Telling the story of this transformation and updating our internal and external audiences on our progress towards these goals is a wonderful challenge for Stefanie and the team."

Stefanie, added:

"The Bentley story began over 100 years ago with bold pioneers pushing boundaries to set the pace on the racetrack. Now the brand is once again setting the pace in the transition to sustainable luxury mobility, driven by the forward-thinking Beyond100 strategy, the boldest plan in the luxury automotive sector. For me it is not just one of the most exciting, but also the most important job I have yet undertaken, helping to define Bentley's path towards a more sustainable, diverse and inclusive future for generations to come."

Stefanie replaces Jo O'Brien who left the business last year to pursue other opportunities.

- ENDS -

Notes to editors

Bentley Motors is the most sought-after luxury car brand in the world. The company's headquarters in Crewe is home to all of its operations including design, R&D, engineering and production of the company's five model lines, Continental GT, Continental GT Convertible, Flying Spur, Bentayga and Bentayga EWB. The combination of fine craftsmanship, using skills that have been handed down through generations, alongside engineering expertise and cutting-edge technology is unique to UK luxury car brands such as Bentley. It is also an example of high-value British manufacturing at its best. Bentley employs around 4,000 people at Crewe.