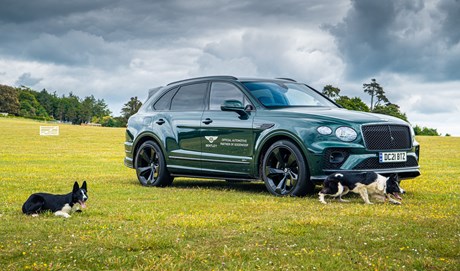 BENTLEY RAISES THE WOOF AT GOODWOOD'S FESTIVAL FOR DOGS
Bentley to be the exclusive automotive partner for Goodwoof, the grand celebration of all things dog

Owners of Bentley cars and dogs called Bentley will have access to the VIP Bentley Car 'Bark'
Working with charity Pets as Therapy, the Bentayga EWB will be transformed into a pup-arazzi photobooth for wind-in-the-ears picture opportunities
For more information and tickets visit https://www.goodwood.com/goodwoof/
(Crewe, 28 April 2023) A celebration of all things canine, Bentley is taking the lead as exclusive automotive partner for this year's Goodwoof festival, which is being held on 20-21 May at the Duke of Richmond's Goodwood estate. A fleet of Bentayga luxury 4x4s will provide extra bark and growl to a range of activities that will give dogs and their human friends a wonderful weekend – or a great Dane out.
Set on the lawn at Goodwood's The Kennels, the West Sussex estate's central clubhouse, the event features world-class competitions, field and trail demonstrations, talks from dog experts and celebrity owners, and plenty of treats for those on both two and four legs.
New this year is the Bentley Barking Paddock where Bentley drivers or owners of dogs called 'Bentley' will benefit from a dedicated car park with swift access to The Kennels.
Goodwoof's Event Creative Director, Will Kinsman, said: "We can't wait to welcome Bentley and the Bentayga to Goodwoof next month. It's the perfect addition to this uniquely stylish event and will offer an extra special experience for our visitors. I hope all the dogs and their humans on site head over to get 'pupped' in the Bentayga and enjoy a moment of luxury!"
There will be a special activity for sheep dogs in which Bentaygas will play a shepherding role. The new and especially spacious Bentayga EWB will also be on paw to provide hounds with a 'pup-arazzi' experience in aid of the lead event charity, Pets as Therapy. In a Bentley, all passengers get VIP treatment – especially pets. And should your pooch wish for some influencer-style photos, there will be a wind machine to get their curls in front of the car just so.

– ENDS –