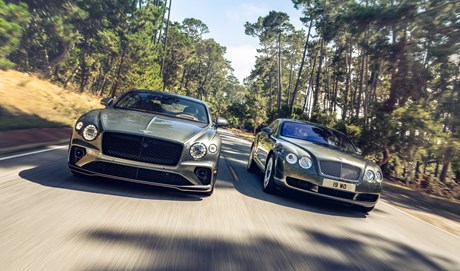 ONE-OF-ONE GT SPEED CELEBRATES 20 YEARS OF CONTINENTAL SUCCESS AT MONTEREY CAR WEEK
Mulliner creates a modern interpretation of the original Continental GT
Unique car brings 20th birthday celebrations to a close
2023 Continental GT Speed inspired by the specification of the very first production Continental GT from 2003
One-of-one car sold to American collector
Both cars displayed at The Quail, A Motorsports Gathering as part of Monterey Car Week
Celebratory 'baton' starts 20-stop global tour, connecting 20 individual Continental GT reviews
(Crewe, 21 August 2023) Bentley Motors brought the 20th birthday celebrations of its now-iconic Continental GT to a close with the reveal and immediate sale of a one-of-one Continental GT Speed, with a specification inspired by that of the very first production Continental GT from 2003. The muse for the project – VIN20001, the first GT off the Crewe production line – was displayed alongside the 2023 version at The Quail, A Motorsports Gathering, also celebrating its 20th birthday and an ongoing part of Monterey Car Week.

Having redefined the Bentley brand for the 21st century when it was launched in 2003, catalysing a ten-fold increase in sales, the Continental GT continues to be the benchmark for modern, luxury grand tourers. The first production car – the most important modern car in Bentley's rejuvenated Heritage Collection – was finished in Cypress Green paint, with an interior of Saddle leather upholstery and Burr Walnut veneer. The bespoke 2023 Continental GT Speed displays a specially commissioned interior inspired by that of its illustrious forbear.

While Saddle leather and Burr Walnut veneer feature in both cabins, the third-generation model features subtle enhancements of the original model's theme. The rich Saddle colour is complemented by an accent hide in 'Special Green', with contrast stitching in the same shade throughout. The fascia and waist rails feature two different veneer finishes – open pore Dark Burr Walnut over high gloss Dark Burr Walnut – separated by a painted pinstripe in Cypress, connecting the interior with the exterior.

An extensive list of features includes the Blackline, Touring and Styling Specifications – together bringing polished black exterior brightware, a suite of technical enhancements and a carbon fibre front splitter, side skirts, diffuser and subtle boot lip spoiler respectively. Self-levelling Mulliner wheel badges finished the 22" Sports Wheels in unique Dark Grey Satin. The interior features Naim for Bentley audio and the Bentley Rotating Display, while the personalised treadplates read, '20 years of the Continental GT by Bentley Mulliner'. Outline representations of the 2003 and 2023 Continental GTs feature on the fascia, centre console and outer sill. This celebratory one-of-one car has already been sold, was handed to its new owner at The Quail, and represents the highlight of four months of activities and events to celebrate this milestone in Bentley's history.

20 Years and three generations

The impact of the first-generation Continental GT was seismic, not only redefining Bentley as a modern luxury brand but also creating a new market sector. The first all-new Bentley with no carried-over components since the original 3 Litre of 2019, the Continental GT was designed at the Crewe studio under then Design Director Dirk van Braeckel and Head of Exterior Design Raul Pires. The sleek lines of Bentley's new grand tourer were inspired by those of the 1952 R Type Continental, with a Bentley 'powerline' that starts low at the front and follows the shoulder line of the bonnet and door before meeting a muscular rear haunch. Twin round headlamps and a Bentley mesh grille gave a subtle nod to the company's thunderous Le Mans-winning racers of the 1920s.

Under the bonnet was an all-new 6.0-litre twin-turbo 48-valve W12 engine. This compact, smooth and powerful design developed 550 bhp and 650 Nm, powering all four wheels via a ZF six-speed automatic transmission. Acceleration from 0-62 mph took 4.8 seconds and top speed was a shade under 200 mph.

During the seven years the first-generation Continental GT remained in production it sired a family of models including the Continental GT Convertible, Continental Flying Spur, Continental GT Speed and Supersports.

Arrival of the V8

The second-generation Continental GT, launched in 6.0-litre W12 form at the Paris Motor Show in 2010, also saw the arrival of a second all-new Bentley engine. The efficient and charismatic 4.0-litre V8, which made its debut in 2012, endowed the Continental GT with an eager, agile and responsive character, accompanied by a characterful V8 exhaust backbeat. In 2017 the line-up was joined by the limited edition 710PS Supersports, its conception inspired by the Team Bentley racing GT3.

2018: the third generation

Bentley's third generation Continental GT was launched in 2018. An entirely new design, its sharper, sleeker lines took full advantage of a new, purpose-designed platform. Even its W12 engine was all-new, paired with a new dual-clutch transmission. Highlights of the new model's specification included three-chamber air springs and 48V electric active anti-roll control, while the on-board technology took a major leap forward thanks to all-new electrical architecture. It was simultaneously faster, more comfortable, more efficient and more luxurious than its predecessors – yet unmistakably still a Continental GT.

Around the world in 20 reviews

A Bentley 'baton', designed and created in house to represent the key lines of the Continental GT, visited Monterey to start a global journey - travelling in a variety of Continental GT models across Europe, the Middle East, China, Asia Pacific and the US before returning to Crewe. At journey's end at Bentley's Dream Factory in Crewe, the baton – which will contain 20 mementoes of the tour - will become a time capsule as a permanent reminder of a unique journey.

- ENDS –

Notes to editors
Bentley Motors is the most sought-after luxury car brand in the world. The company's headquarters in Crewe is home to all of its operations including design, R&D, engineering, Mulliner and production of the company's five model lines, Continental GT, Continental GT Convertible, Flying Spur, Bentayga and Bentayga EWB. The combination of fine craftsmanship, using skills that have been handed down through generations, alongside engineering expertise and cutting-edge technology is unique to UK luxury car brands such as Bentley. It is also an example of high-value British manufacturing at its best. Bentley employs around 4,000 people at Crewe.