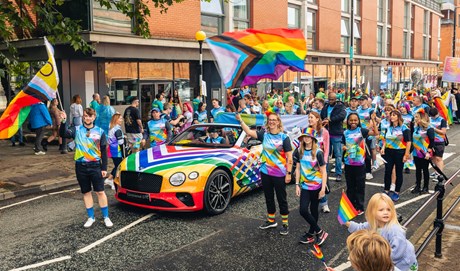 BENTLEY SHINES A RAINBOW OVER MANCHESTER PRIDE WITH UNIQUELY WRAPPED CAR
One-of-a-kind Continental GTC designed specifically to celebrate LGBTQ+ community
Eye-catching convertible a memorable part of Manchester Pride parade
Wrap featured rainbow stripe pattern created by Bentley designer Rich Morris in nearby Crewe
Design represented the diversity of Pride, allowing everyone to come together in a spirit of unity, love and celebration
This year's Manchester Pride celebrates ten years since the passing of the Marriage Equality Act in England and Wales
75 LGBTQ+ colleagues, their partners and allies linked to Bentley network part of colourful parade
(Crewe, 29 August 2023) Bentley Motors reconfirmed its year-round support for the LGBTQ+ community with a uniquely wrapped car for the Manchester Pride parade. Specially created by Bentley designer Rich Morris, the brightly-coloured Heritage Collection Continental GTC represented the diversity of Pride, which allows everyone to come together in a spirit of unity, love and celebration.

The eye-catching convertible featured a rainbow stripe pattern and was a striking element of the parade, showcasing solidarity and advocacy for LGBTQ+ rights. Manchester Pride is one of the UK's largest Pride events, promoting a world where LGBTQ+ people are free to live and love without prejudice, in a culture that is universally celebrated. The parade celebrates the progress made whilst continuing to raise awareness, bring hope to those in need and to inspire others to challenge discrimination.

75 Bentley colleagues, some of their partners and allies linked to the Bentley network took part in Manchester Pride, helping to reinforce the message that the company is striving to create a culture where all employees feel comfortable bringing their true, authentic selves to the workplace.

Karen Lange, Member of the Board for Human Resources at Bentley Motors, said:

"The colourfully-wrapped Continental GTC at Manchester Pride reflects the diversity of our colleagues, at the home of Bentley in Crewe and around the world. Inclusion remains a year-round commitment for Bentley."

Rich Morris, CGI Artist & Designer at Bentley Motors, added:

"I wanted to focus on classic Pride colours and create something bold and beautiful but simple and direct at the same time. I decided to use the six colours of the original Pride flag so that anybody who sees the Continental GTC, no matter what their knowledge of the LGBTQ+ community, will instantly understand what the car stands for. The lines and shape of the GTC are taken into consideration when designing the art work. Multiple lines intersect to create a diamond pattern, which represents Bentley's iconic interior quilt patterns."

Benjamin McCormick, co-chair of the BeProud Network at Bentley Motors, said: "For me, Pride this year means being proud of our colleagues walking through Manchester with their loved ones, unafraid to be themselves. We want Bentley to be a safe space where everyone feels comfortable being who they are, and we as the BeProud network are a key part of this."

- ENDS –

Notes to editors
Bentley Motors is the most sought-after luxury car brand in the world. The company's headquarters in Crewe is home to all of its operations including design, R&D, engineering and production of the company's five model lines, Continental GT, Continental GTC, Flying Spur, Bentayga and Bentayga EWB. The combination of fine craftsmanship, using skills that have been handed down through generations, alongside engineering expertise and cutting-edge technology is unique to UK luxury car brands such as Bentley. It is also an example of high-value British manufacturing at its best. Bentley employs around 4,000 people at Crewe.