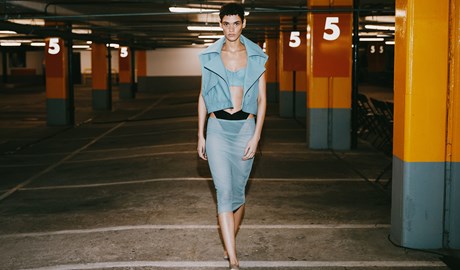 BENTLEY SUPPORTS EMERGING BRITISH DESIGN TALENT SUPRIYA LELE AT LONDON FASHION WEEK 2023
Bentley collaborates with award-winning fashion designer, Supriya Lele, for London Fashion Week using leather off-cuts from its manufacture
Three one-off pieces, a jacket, corset and belt, revealed today at Supriya Lele's London Fashion Week show
The designer was inspired by a trip to the Bentley factory in Crewe, where she was able to experience the brand's impressive attention to detail, understated luxury, and sense of modernity
With this collaboration Bentley continues to further its support of emerging talent
(Crewe, 18 September 2023) As part of its ongoing support for emerging talent, Bentley Motors has collaborated with the award-winning fashion designer Supriya Lele, who is known for her sensual blend of femininity and exploration of her British and Indian heritage. Lele has used leather off-cuts from the iconic Bentley Motors Factory in Crewe to create three concept garments, exclusively revealed at her London Fashion Week show, which also sees her return to the catwalk for the Spring/Summer 2024 season.

It is a collaboration born from shared ideologies of craft, excellence, heritage, quiet luxury, alongside the history and prowess of the Bentley.

"It was an exciting proposition to work with Bentley – an incredible heritage car manufacturer that needs no introduction with a level of craftsmanship and detail that is second to none. A visit to the Crewe headquarters introduced me to the unique and fascinating methods of Bentley's manufacture – the level of perfection and expertise reminded me of an elevated couture atelier," Lele commented.

It was on this trip that Lele conceived the three garment designs which she felt could reflect the quality of the leather and do the fabric justice, while serving the rest of the collection, which is a culmination of key developments over the course of the past year.

"This beautiful blue jacket, corset bra and belt add this strength and tension and modernity. Leather hides named Camel and Light Blue, by Mulliner, were selected for the pieces, tapping into both our brands' affinity for colour and mixing heritage with a progressive and modern approach in a new medium," added Lele.

Jai Bolar, Head of Design Strategy and Innovation at Bentley commented "Supriya is a talented artist and creates beautiful pieces that creatively tap into the best out of her Indian heritage and British design expertise. We were delighted to support her talent through this project which sees leather off cuts from our production being used to create inspirational garments rooted in our mutual design values and principles".

– ENDS –

Notes to Editors
Bentley Motors is the most sought-after luxury car brand in the world. The company's headquarters in Crewe is home to all of its operations including design, R&D, engineering, and production of the company's five model lines, Continental GT, Continental GT Convertible, Flying Spur, Bentayga and Bentayga EWB. The combination of fine craftsmanship, using skills that have been handed down through generations, alongside engineering expertise and cutting-edge technology is unique to UK luxury car brands such as Bentley. It is also an example of high-value British manufacturing at its best. Bentley employs around 4,000 people at Crewe.

Notes to Editors – Supriya Lele
Supriya Lele is the designer behind the acclaimed eponymous label based in London. Her work negotiates the realities and fantasies that arise from being a British woman born to parents who emigrated from India to the UK in the 1980s, creating work from a specifically female viewpoint which tells a nuanced and complex story. Her creations have featured in publications like British Vogue and The New York Times and are available internationally in stores such as Dover Street Market and Net-A-Porter.
In 2023, she collaborated with Victoria's Secret, reimagining their iconic pieces with a contemporary twist for the "Victoria's Secret World Tour." Lele will debut her solo collection at London Fashion Week SS24 and inaugurate her South London Gallery, Qrystal Partners.