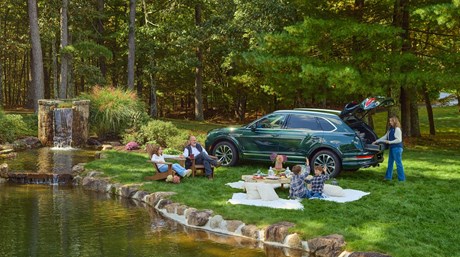 BENTAYGA JOINS 'THE PRESERVE' SPORTING CLUB & RESIDENCES, TO CONTINUE LUXURY OUTDOOR ADVENTURE
Partnership offers unparalleled luxury excursions at one of America's finest four-season sporting clubs
Ultimate go-anywhere SUV Bentayga accessible for off-road curated experiences
Bentayga Extended Wheelbase provides wellness-inspired journey
Choose your own adventure, Bentley lifestyle on display
Bentley owners receive twice annual benefits at Rhode Island property
(Reston, Va., November 8, 2023) Bentley Motors is proud to announce a new partnership with The Preserve Sporting Club & Residences, located on 3,500 pristine forested acres in Richmond, Rhode Island. The joint project offers adventure and wellness seekers one-of-a-kind automotive experiences behind the wheel of the Bentayga. The Bentayga rises to the occasion as the ultimate go-anywhere SUV, combining the abilities of a performance-orientated Grand Tourer with genuine off-road ability encapsulated in one luxurious package.

Launched in 2019, The Preserve was conceived as an unparalleled luxury resort focused on shaping experiences and elevated opportunities within unspoiled nature, and preserving the protected land of the Carolina Management Area, which includes developing wildlife sanctuaries and strategic land donations.
The Preserve grants access for guests to develop driving skills with expert coaching at the Bentley Off-Road Driving Experience, a newly developed test track with steep inclines and descents, featuring Bentayga V8s with All-Terrain Specification. Equipped with Bentley Dynamic Ride – the world's first 48V active anti-roll control system, the Bentayga accommodates the widest range of on and off-road drive settings of any SUV available.

The offering expands with three specifically tailored on-property excursions where guests are encouraged to choose their adventure.

Each fitted with custom designed rear cargo boxes wrapped in color matched hide to stow equipment for field sports, fly fishing or picnicking. The design team from Mulliner – Bentley's in-house bespoking division – worked closely with The Preserve to design three Bentaygas befitting of the setting while keeping in the spirit of outdoor adventure.
The first features an exterior in Havana, personalized The Preserve logo welcome lamps, Dark Burr Walnut with cross banding and specially designed cargo box to house field sports equipment, a cleaning kit, and snap caps.
The second Bentayga sports a beautifully serene Moonbeam over Dark Sapphire Duo-Tone exterior, high-gloss crown-cut Walnut with cross-banding fascia and fly fishing gear aptly organized in the boot.
The third, a picnic-focused Bentayga, sports a Cumbrian Green exterior, high gloss Dark Fiddleback Eucalyptus with cross-banding and includes a rear cargo box designed for upscale picnicking and a leisurely afternoon.
While chauffeured between events in a finely specified Bentayga Extended Wheelbase, the time between activities is dedicated to the on-board wellness of its occupants. The Bentayga features world-first wellness technology embedded within the cabin, providing the optimum balance between ultimate ride comfort, handling and body control. Each experience Bentayga is specified to fit the needs of the experience and feature bespoke purpose-built cargo boxes that fit to the tailgate rails in addition to personalized Preserve puddle lamps and embroidered emblems.

The Bentayga Extended Wheelbase is powered by Bentley's 4.0-liter, 32-valve dual twin-scroll turbocharged V8 petrol engine, which combines immense power with impressive fuel economy. Mated to an eight-speed automatic gearbox, the V8 offers supercar performance, developing 542 bhp and 568 lb. ft of torque, resulting in a top speed of 180 mph and 0-60 mph in 4.5 seconds.

"We are excited to welcome guests to the Bentley Experiences at The Preserve to take part in incredible driving adventures, all offering wellness and self-discovery while behind the wheel of Bentayga," says Christophe Georges, President and CEO of Bentley Americas. "This offering compliments a shared vision for creating memorable and accessible Bentley Extraordinary Journeys while highlighting craftsmanship, innovation, wellness and sustainability."

Bentley owners will enjoy twice yearly premier access to The Preserve, including peak times when the retreat is typically inaccessible. This access also includes premier booking at the 18-hole golf course, the state-of-the-art spa as well as the equestrian center.

For more information, please visit: www.PreserveSportingClub.com

- ENDS –

Notes to editors
About The Preserve Sporting Club & Residences:
Preserve Sporting Club & Residences is a one-of-a-kind retreat located on 3,500 acres in Richmond, RI. A member of Preferred Hotels & Resorts, highlights include an 18-hole golf course, tennis, zip line, mountain biking, hiking, canoeing, and kayaking, as well as a rock-climbing wall, and 10 fly fishing ponds. The Preserve is home to the nation's premier shooting sports facility, with numerous opportunities for clay shooting in addition to the longest indoor automated shooting range. Amenities also include a state-of-the-art spa, a Safari Tent experience, and a series of "Hobbit Houses" available for events. Luxury accommodations include single-family homes, townhomes, and more, and their real estate and membership options invite guests to build a legacy that can be passed to future generations. For more information, visit https://preservesportingclub.com/.