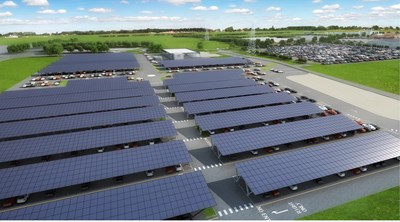 BENTLEY MOTORS TO BUILD THE UK'S LARGEST EVER SOLAR-POWERED CAR PORT
10,000 solar panels will generate 2.7MW of power
System could cover 24 per cent of Bentley's electrical energy requirements and reduce CO₂ by 3,300 tonnes per year
Car port increases Bentley's solar energy system to over 30,000 panels – enough energy to cover over 1,750 homes
(Crewe, 10 April 2018) Bentley Motors today announces that construction has started on the UK's largest ever solar-powered car port at Bentley's factory headquarters in Crewe, UK.
The installation of 10,000 solar panels, which has a capacity of 2.7MW, will take approximately six months to complete. Once completed, the car port - which covers Bentley's colleague car park - will take Bentley's energy system to 30,815 solar panels. This includes the 20,815 panel roof top installation completed in 2013.

Commenting on the installation, Peter Bosch, Bentley's Member of the Board for Manufacturing, said:

"We continue to focus on new initiatives that reinforce our commitment to the environment, whether this is introducing alternative powertrain technologies in future models, or our award-winning work to reduce the environmental impact of our factory.

"This solar installation is another example of how we can make our factory more sustainable by using technological innovation. This helps us produce extraordinary cars with responsibly-sourced materials in an efficient manner, while continually striving to reduce the company's environmental impact."

The solar car port installation, which covers 1,378 car parking spaces, and an area of 16,426m², will be installed and operated by FlexiSolar, the innovative solar car port specialist.

The project is also backed by Innovate UK, the UK's innovation agency driven to support the science and technology initiatives that will grow the UK economy.

This solar installation announcement follows recent recognition that Bentley Motors has become the first UK automotive manufacturer to be awarded the Carbon Trust Standards for carbon, water and waste, further reducing the environmental impact of its operations in Crewe.
- ENDS -
Notes to editors
About Bentley Motors
Bentley Motors is the most sought after luxury car brand in the world. The company's headquarters in Crewe is home to all of its operations including design, R&D, engineering and production of the company's four model lines, Bentayga, Continental, Flying Spur and Mulsanne. The combination of fine craftsmanship, using skills that have been handed down through generations, alongside engineering expertise and cutting-edge technology is unique to UK luxury car brands such as Bentley. It is also an example of high-value British manufacturing at its best. Bentley employs around 4,000 people at Crewe.

About FlexiSolar
FlexiSolar's vision is to integrate three core technologies to reduce customers costs and to help decarbonise energy generation and transport. With an expert team benefitting from over 100 years working in the solar industry and the wider renewables sector, the design, manufacturing, installation and operations company focusses on offering innovative solar carport solutions, integrated with battery storage and electric vehicle charging infrastructure.
www.flexi-solar.com
Read more
LANGUAGES

Press Contacts
Matthew Reed
Head of Corporate Communications
matthew.reed@bentley.co.uk
+44 (0) 1270 536433