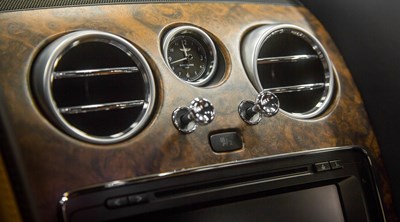 NEW OPEN-PORE WALNUT VENEER BY MULLINER
Bentley creates new luxury wood veneer

Open-pore Walnut cut from highest quality wood

Ultra-thin lacquer allows customers to feel natural grain of wood

Handcrafted finish highlights natural beauty of exquisite walnut
(Crewe, 17 July 2018) Bentley's personal commissioning division, Mulliner, is introducing a new finish on a classic wood veneer that celebrates the natural, authentic beauty of walnut and offers yet another luxurious interior option to customers.
Open-pore Walnut is sourced from a very special tree type that combines European Walnut and American Walnut. A handcrafted finish, completed at Bentley headquarters in Crewe, England, enhances the large pore structure to reveal the intense dark colouring of the wood.
The specially grown trees are mainly planted in California, with Bentley's wood experts visiting regularly to ensure that only the finest quality walnut veneer is selected. This is carefully cut from the textured section of the tree burl, which is only found between the outer layer of sap and the inner core.
The open-pore Walnut veneer is then painted with just three, ultra-thin layers of lacquer, together totalling only 0.1 mm in thickness. By comparison, Bentley's High Gloss lacquer coating is 0.5 mm thick and has a glossy, smooth finish.
Each layer is applied by hand and sanded between applications, ensuring the lacquer sticks to the natural grooves of the wood. The resulting finish is wax-like and perfectly highlights the authentic, natural colour and texture of the walnut.
This delicate technique ensures Bentley customers can actually feel the texture of the wood. The variation in colour and grain of different cuts of open-pore Walnut mean that each veneer is also slightly different – offering a truly unique Bentley interior.
This sensuous new finish is available to specify in the Flying Spur, Bentayga and Mulsanne.
Mulliner – Rare By Design
Anything is possible in the world of Mulliner. The company's sole aim is to meet the requirements of the individual Bentley customer.
Discerning customers may request something as simple as monogrammed upholstery, or more detailed bodywork modifications that rely on the expertise of the world's most experienced coachbuilder.
Mulliner also creates Limited Edition models that share the highest standards of craftsmanship, always delivering luxury on the highest level.
- ENDS -
Notes to editors
Bentley Motors is the most sought after luxury car brand in the world. The company's headquarters in Crewe is home to all of its operations including design, R&D, engineering and production of the company's four model lines, Continental, Flying Spur, Bentayga and Mulsanne. The combination of fine craftsmanship, using skills that have been handed down through generations, alongside engineering expertise and cutting-edge technology is unique to UK luxury car brands such as Bentley. It is also an example of high-value British manufacturing at its best. Bentley employs around 4,000 people at Crewe.
Read more
LANGUAGES