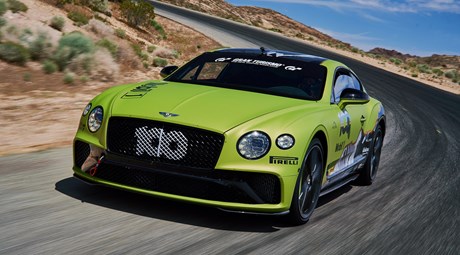 READY TO SUMMIT: BENTLEY CONTINENTAL GT SET FOR PIKES PEAK RECORD ATTEMPT
Continental GT seeks outright production car record on June 30
Follows Bentley Bentayga record-setting run in 2018
Full race livery is revealed
Race number #100 recognises Bentley's centenary year
Extensive testing programme continues
(Crewe, 6 June 2019) Bentley Motors is set to attempt to break the outright production car record at the world-renowned Pikes Peak International Hill Climb (PPIHC) with the new Continental GT later this month. The current record and time to beat is 10:26.9.
Last year, the record for a production SUV at Pikes Peak was set by the Bentley Bentayga in a time of 10:49.9 - taking nearly two minutes off the previous record by averaging 66.5 mph.
In Bentley Motors' centenary year, the spirit of endeavour and desire to push the boundaries of automotive performance remains strong after 100 years of competition. The Continental GT - racing under #100 - equipped with the highly-capable and dynamic W12 engine has undergone extensive testing in order to prepare both car and driver for the record attempt.
Bentley's Director of Motorsport, Brian Gush, says:
"We have taken much learning from our successful visit to Pikes Peak last year with the Bentley Bentayga and applied it to our preparations this time around. We are proud to demonstrate the Continental GT's breadth of abilities in competition on a global stage."
"The extreme conditions of Pikes Peak pose a significant challenge. With the start line being at 9,300ft and climbing to 14,100ft the air is 1/3rd less dense than at sea level. The weather will also play a vital role in the run as 90 degree temperatures and clear skies can change to snow in a matter of minutes. The lack of oxygen will also impact driver Rhys Millen, who will have an on-board oxygen system fed into his helmet to reduce any effect of altitude sickness."
Former 'King of the Mountain' and Pikes Peak veteran Rhys Millen, who will drive the Continental GT during the record attempt, added:
"In the Pikes Peak environment it [Continental GT] really checks every box as the most competitive vehicle you could arm yourself. This is one run, one day of the year. You have to be calm, be focused and process everything that you have to."
The record attempt will take place on June 30. More information about PPIHC can be found at https://ppihc.org/.
- ENDS -
Notes to editors
Bentley Motors is the most sought after luxury car brand in the world. The company's headquarters in Crewe is home to all of its operations including design, R&D, engineering and production of the company's four model lines, Bentayga, Continental, Flying Spur and Mulsanne. The combination of fine craftsmanship, using skills that have been handed down through generations, alongside engineering expertise and cutting-edge technology is unique to UK luxury car brands such as Bentley. It is also an example of high-value British manufacturing at its best. Bentley employs around 4,000 people at Crewe.