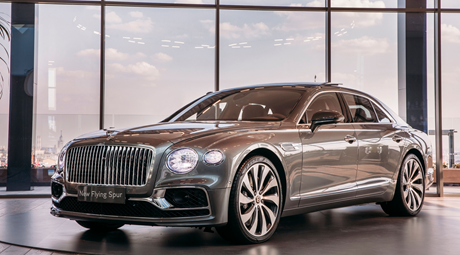 DELIVERIES OF WORLD'S BEST LUXURY SEDAN UNDERWAY
First customer deliveries of Bentley's All-New Flying Spur begin
Multi-award winning All-New Flying Spur delivers sporting agility with peerless luxury
Bentley's ultimate four-door Grand Tourer combines traditional hand craftsmanship with contemporary performance
All-New Flying Spur sets the benchmark for refinement and luxury
Handcrafted in the UK's first carbon neutral luxury car factory
Ultimate luxury Grand Touring sedan starts from £168,300*
(Crewe, 4 February 2020) As a new decade introduces a new era of luxury mobility, Bentley Motors has started customer deliveries of the all-new Flying Spur to their owners across Europe & the UK, with deliveries scheduled to begin in Eastern Markets, North America and Asia throughout the year. The new Flying Spur is expected to make up around 20% of Bentley's worldwide sales in 2020.
First shown in the second half of 2019, the new Flying Spur has already collected a multitude of accolades, including Luxury Car of the Year. Production of cars destined for customers began in November in Bentley's Crewe factory, which was recently certified by The Carbon Trust as the UK's first carbon neutral factory for luxury car production.
Chris Craft, Bentley's Member of the Board for Sales & Marketing, comments: "We have completely reinvented the Flying Spur with a more emotional design, broader dynamic capability, world-leading interior style and innovative technology. The new Flying Spur is the definitive luxury performance sedan and the new Bentley flagship, and we're excited for our customers to start taking deliveries of what we truly believe to be an extraordinary car".
The all-new Bentley Flying Spur is the ultimate luxury Grand Touring sedan, offering the perfect fusion of performance-orientated agility and exclusive four-door, limousine-style comfort.
With a bold and exciting road presence that is unmistakably Bentley, plus a luxurious cabin offering unrivalled levels of comfort and refinement, the new Flying Spur has been uniquely designed to satisfy both driver and passengers alike in a manner that no other car can do. New from the ground up, the four-door seamlessly integrates the very best in British craftsmanship with cutting-edge, innovative features.
The third generation Flying Spur is a showcase for Bentley's contemporary sculptural design language, while bearing the hallmarks of the Crewe-based company's unique DNA. Built on an entirely new platform, its athletic stance benefits from the front axle being moved forward to extend the wheelbase.
Inside the sumptuous cabin, the design flows from the new wing-themed fascia to connect the front and rear spaces and create a completely integrated style. The interior is unmistakably Bentley, incorporating sustainable, natural, authentic materials while embracing a host of new technologies.
The unique Bentley Rotating Display is the central feature of an exquisitely crafted dashboard. The HD instrument panel has the choice of 12.3-inch digital touchscreen, beautiful analogue dials, or a digital-detox wood veneer finish.
A detachable Touch Screen Remote Control is the centrepiece of the rear seat experience. This state-of-the-art unit can operate all the major functions, including the blinds, climate control and rear seat massage functions. It can also control the Flying Spur's multi-configuration mood lighting system.
Peerless comfort and refinement in the spacious cabin are enhanced by an extensive list of Single and Dual Veneer wood options. In both front and rear Bentley has introduced completely new-design fluted leather seats, which feature diamond quilting for the Mulliner Driving Specification. Three-dimensional diamond quilted leather doors inserts are a world first.
An optional panoramic glass sunroof stretches the full length of the roof, flooding the interior with light and bringing occupants closer to their Grand Touring experience. Three superlative audio systems, including a 16-speaker Bang & Olufsen system and a unique, 2,200W Naim system, are also available.
The all-new Flying Spur leads the way in the luxury car segment for state-of-the-art technology. Driver assistance systems include a Night Vision infra-red camera, Traffic Assist, Blind Sport Warning and a Head-Up Display. A raft of Advanced Connectivity features, including an integrated Wi-Fi hotspot, help keep the driver in touch with a range of real-time functions and services.
Built on a new, advanced aluminium and composite chassis, the Flying Spur is a technological tour-de-force. Electronic All-Wheel Steering is used for the first time in a Bentley, combining with Active All-Wheel Drive and Bentley Dynamic Ride – the world's first 48V electric anti-roll system - to deliver phenomenal handling and ride. Another major advance comes in the form of new, three-chamber air springs, which offer a much greater range of suspension adjustment between limousine-style ride comfort and sporting levels of body control. It allows the Flying Spur a breadth of capability not seen in the luxury segment before.
At the heart of the Flying Spur is an enhanced version of Bentley's 6.0-litre, twin-turbocharged W12, mated to an advanced dual-clutch eight-speed transmission for faster, smoother gear changes. The new TSI engine delivers 0-60mph in 3.7 seconds (0-100 km/h time of 3.8 seconds) and a top speed of 207mph (333 km/h).
Customers of the new Flying Spur are typically specifying their cars with Bentley's most luxury-focused options. More than 80% select the Mulliner Driving Specification, which includes Mulliner designed 22" wheels, lofted diamond quilting to the seats, three-dimensional leather door panels, a full leather headliner, embroidered Bentley emblems and Bentley's Jewel oil and fuel filler caps. 60% of customers are opting for the Flying Spur First Edition, which includes First Edition exterior and interior badging inspired by the Union flag, and many optional features made standard – including the new electrically-deployed Flying B mascot, Bentley Rotating Display, Touring Specification and mood lighting.
*Regional prices are from €180,400 or $214,600 USD
- ENDS –
Notes to editors
Bentley Motors is the most sought after luxury car brand in the world. The company's headquarters in Crewe is home to all of its operations including design, R&D, engineering and production of the company's four model lines, Continental, Flying Spur, Bentayga and Mulsanne. The combination of fine craftsmanship, using skills that have been handed down through generations, alongside engineering expertise and cutting-edge technology is unique to UK luxury car brands such as Bentley. It is also an example of high-value British manufacturing at its best. Bentley employs around 4,000 people at Crewe.