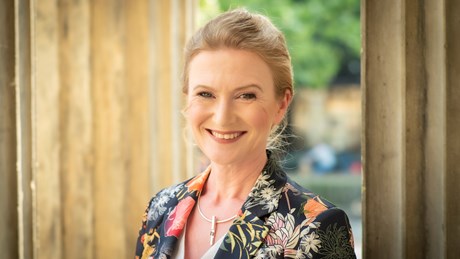 BENTLEY ANNOUNCES BOARD OF MANAGEMENT CHANGES
Dr. Karen Lange joins Bentley Motors from Volkswagen joint venture organisation, Northvolt Zwei GmbH & Co. KG as Member of the Board for Human Resources replacing Dr. Astrid Fontaine who moves to Volkswagen Commercial Vehicles
(Crewe, 31 August 2021) Bentley Motors has announced the appointment of Dr. Karen Lange as Member of the Board for Human Resources reporting to Chairman and CEO, Adrian Hallmark. She replaces Dr. Astrid Fontaine who leaves Bentley after more than three years to join Volkswagen Commercial Vehicles as Member of the Board for Human Resources on 1 September.

After teaching at the University of Hanover and a stay at the Institute of Industrial Relations at the University of Berkley (California, USA), Dr. Lange joined the Volkswagen Group in 2002. After holding various management positions in the Volkswagen Group Human Resources department, including Head of Global Assignments from 2013, she was appointed Head of Human Resources at the Volkswagen joint venture Northvolt Zwei GmbH & Co. KG in Salzgitter in 2020.

Dr. Astrid Fontaine became Bentley's first Member of the Board for People, Digitalisation and IT in January 2018, joining from Porsche North America where she was Vice President of Human Resources, Culture and Innovation while also teaching digital enterprise at the Emory University Atlanta. Since joining Bentley, Astrid has led the development of a new digital strategy that has seen the piloting of a variety of digital services. Her team also drove the transformation of business processes and customer solutions, and she introduced the company's first digital technology apprenticeship programme. Her leadership of Bentley's Crisis Management Team, including the rapid introduction of remote working, helped to lead the company so strongly through the pandemic. Plus she has also been one of the main drivers for Bentley's focus on becoming a leader in sustainable luxury mobility.

Adrian Hallmark, Chairman and CEO, comments: "I am delighted to welcome Karen to the team. Her near 20-year experience within the Volkswagen Group will be extremely useful to us, especially as we continue to transform the organisation for our journey to electrification.

"I would also like to thank Astrid on behalf of everyone who has worked with her for her significant contribution to Bentley and our Beyond100 strategy. She has left a lasting impression on the entire team and will be greatly missed."

ENDS

Notes to editors

Bentley Motors is the most sought-after luxury car brand in the world. The company's headquarters in Crewe is home to all of its operations including design, R&D, engineering and production of the company's three model lines, Continental, Flying Spur and Bentayga. The combination of fine craftsmanship, using skills that have been handed down through generations, alongside engineering expertise and cutting-edge technology is unique to UK luxury car brands such as Bentley. It is also an example of high-value British manufacturing at its best. Bentley employs around 4,000 people at Crewe.