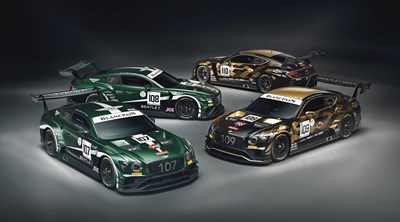 BENTLEY REVEALS CENTENARY LIVERIES FOR SPA
A special contemporary Centenary livery exclusively launched in partnership with video game developer, Gameloft
Two unique retro-livery GT3s pay homage to historic motorsport successes
A week of events set to celebrate the Centenary at Spa
(Crewe, 4 July 2019) Bentley Motorsport's four Continental GT3s at this month's 24 Hours of Spa (26-28 July) will sport special liveries to celebrate Bentley's Centenary.
Two of the race cars will feature a heritage livery commemorating past motorsport successes. The second pair of GT3s will showcase a livery that heralds the future of the Bentley brand as it enters its second Century – and will be exclusively launched in Gameloft's racing game, Asphalt 8: Airborne1, ahead of the 24 Hours of Spa.
Continental GT3s #107 and #108 will run in a retro British racing green livery reminiscent of the 1927-1929 Le Mans-winning cars and the 2003 Le Mans-winning Speed 8. The team is hopeful that another milestone in the company's racing history will be achieved at Spa while sporting the colour that is so evocative to British motor racing fans.
The race numbers on the side of the cars also take inspiration from the past – the pair of 2003 Le Mans Speed 8s, which locked out the front row in qualifying for the 24-hour race, ran as #7 and #8 – and will be combined with the number 100 to mark the anniversary.
From the same team, a pair of special black and gold Centenary Continental GT3s will also be competing for overall victory, running in the numbers #109 and #110. The futuristic pattern and flashes of Bentley's Centenary gold point to Bentley's exciting future.
Bentley and Gameloft have collaborated to create a series of dedicated activations to launch this special Centenary livery. A race event within the Asphalt 8: Airborne game will take place between the 17th – 27th July, as well as a series of time-limited challenges in which players will be able to compete against each other to 'unlock' the Bentley Continental GT3 Centenary livery.
Bentley's Director of Motorsport Brian Gush commented: "The 10th July 2019 marks the 100th anniversary of Bentley and we have spent the first seven months of the year celebrating our illustrious past. Now, in our birthday month, we are also looking forward to the future of the brand. It therefore felt poignant for us to both mark our motorsport past and celebrate our future side-by-side.
"British racing green has always been a favourite with our fans and we're sure they'll love this design too. After winning Le Mans in 2003 in this colour, it would be fitting to take another 24-hour race win in this livery. Similarly, it would be very symbolic for our Continental GT3 to power across the line in flashes of black and gold, as we race in our Centenary year. Most importantly, we have four driver teams capable of winning the race."
More than 100 customers will attend the 24 Hours of Spa to enjoy a unique hospitality programme in the Bentley Suite located directly above the pit lane. In addition, over 200 Bentley employees will drive from Bentley in Crewe, UK to the race track in Belgium to support the team and experience unrivalled trackside access.
Notes to editors
1. Gameloft is an Official Licensed Partner of Bentley Motors Ltd. Asphalt 8: Airborne, available on iOS, Android and Windows devices, can be downloaded here: https://gmlft.co/Play-Asphalt8
Fans can watch the race at www.youtube.com/GTWorld and follow on Instagram (@bentleyracingofficial) and Twitter (@bentleyracing) for live updates and behind-the-scenes content.
Driver line-up
#107: Steven Kane (GBR), Jules Gounon (FRA) and Jordan Pepper (ZAF)
#108: Maxime Soulet (BEL), Markus Palttala (FIN) and Alex Buncombe (GBR)
#109: Rodrigo Baptista (BRA), Seb Morris (GBR) and Callum Macleod (GBR)
#110: Andy Soucek (ESP), Lucas Ordonez (ESP) and Pipo Derani (BRA)
Bentley Motors is the most sought after luxury car brand in the world. The company's headquarters in Crewe is home to all of its operations including design, R&D, engineering and production of the company's four model lines, Continental, Flying Spur, Bentayga and Mulsanne. The combination of fine craftsmanship, using skills that have been handed down through generations, alongside engineering expertise and cutting-edge technology is unique to UK luxury car brands such as Bentley. It is also an example of high-value British manufacturing at its best. Bentley employs around 4,000 people at Crewe.
Read more
LANGUAGES

Press Contacts
Wayne Bruce
Director of Communications
wayne.bruce@bentley.co.uk
+44 (0) 1270 535189