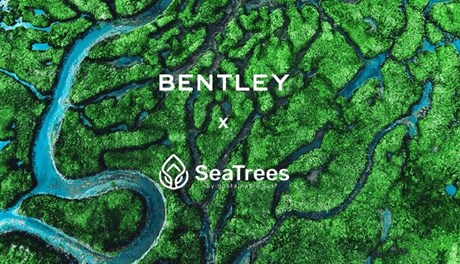 BENTLEY MOTORS ANNOUNCES THE LAUNCH OF THE BENTLEY ENVIRONMENTAL FOUNDATION
As part of the company's Beyond100 strategy, the Bentley Environmental Foundation represents the luxury marque's long-term commitment to supporting global sustainability initiatives
The Foundation will drive next generation solutions to environmental challenges
The three confirmed launch partners include Project Drawdown, The Biomimicry Institute and Sustainable Surf
The public as well as Bentley employees have the opportunity to make donations from 13 June onwards
The unveiling of the Foundation comes in the wake of the launch of the Bentley Sustainability Council
(Crewe, 13 June 2023) Building on Bentley's Beyond100 strategy and long-term commitment to sustainability, Bentley Motors today announces the launch of the Bentley Environmental Foundation. The Foundation supports a wide range of initiatives. The initial launch partner projects include Project Drawdown, The Biomimicry Institute and Sustainable Surf, with more partners to follow. Anyone can support the Bentley Environmental Foundation and its partners through donations big or small in order to increase the environmental impact of these projects.

Based on extensive research and analysis of existing initiatives, Bentley has developed a distinctive, innovative approach to modern grant-making in the environmental space. Built around its new Environmental Foundation, the company will help to create next generation solutions to environmental challenges, aiming for rejuvenation and regeneration and going beyond carbon neutrality. The launch of the Foundation has been aided by strategic advice from the Charities Aid Foundation (CAF).

The company is supporting the Foundation directly by initially donating £3 million this year. This is a first step to support carefully selected charities and non-profits who will work in partnership with Bentley to deliver lasting, effective environmental change. The Foundation takes a three-pronged approach to grant-making – accelerating decarbonisation ('drawdown'), supporting environmental changemakers and reimagining sustainable luxury.

"Our Beyond100 strategy is amongst the boldest in the industry," says Adrian Hallmark, Bentley Motors Chairman and CEO. "We will reinvent Bentley, and create a fully electric car business by 2030, which will already be taking a huge step to reduce our environmental impact."

"However, without parallel changes to global renewable energy production, carbon capture and reduction in raw material usage, this benefit will be relatively small – it is not all about the car itself. Therefore, the Bentley Environmental Foundation will fund pioneering, discovery-led initiatives that can make a positive impact beyond our own business needs, engaging customers and innovators to seek out breakthrough technologies and solutions that lead the way on reversing the effects of climate change. The opportunity to act and innovate has never been more exciting than now."

Christoph Hohmann, Head of Global Brand Communications and responsible for the foundation, adds:

"We are very excited to launch the Foundation with these three partners. Co-creation is part of our brand DNA and we're now applying this approach to implementing projects with real, long-term impacts for the environment. With Project Drawdown we aim to significantly increase the efficiency and effectiveness of billions of pounds worth of environmental donations and investments globally. With The Biomimicry Institute we're supporting changemakers who are creating and scaling nature-inspired solutions to address our most pressing environmental and social challenges. And with Sustainable Surf we're helping to strengthen blue carbon ecosystems in Africa and Europe through the massive forestation of seagrass and mangrove trees."

"Project Drawdown is thrilled to receive this support from the Bentley Foundation and partner on the launch of the Drawdown Labs Capital Accelerator," says Dr Jonathan Foley, Executive Director at Project Drawdown. "As a result of this collaboration, we will be able to help philanthropists and investors around the world — elevating the scientific rigor of their portfolios and significantly increase investments in the most effective climate solutions. Thanks to the founding investment by the Bentley Environmental Foundation, we are building a program that will influence tens of billions of dollars in climate investments, accelerating the world towards effective climate action."

The Bentley Environmental Foundation has been set up with strategic advice from the Charities Aid Foundation (CAF), a not-for-profit organisation with nearly 100 years of expertise in philanthropy. CAF is partnering with Bentley to ensure their investment achieves the maximum impact, providing advice on the Foundation's structure, governance, reporting, and selecting charity partners.

The Bentley Environmental Foundation will follow a Funding Plus model, leveraging the company's reach and standing to help push environmental innovation that might otherwise be overlooked, harnessing new technologies to combat climate change rapidly and effectively. The Bentley Environmental Foundation is committed to radical transparency, inviting the public to get involved and focusing on delivering measurable impacts. The public as well as Bentley employees have the opportunity to make donations from 13 June onwards by visiting BentleyMotors.com.

The three confirmed launch partners are:

1) Project Drawdown
Project Drawdown, the world's leading resource for climate solutions, has identified staggering disconnects between today's climate funding and the science-based solutions needed to effectively address climate change. In response, it is building the new Drawdown Labs Capital Accelerator. The first of its kind, this initiative enables philanthropists and investors to aggregate their impact and learn from the world's leading scientists and engineers, with an open-source plan for increasing impact. The Capital Accelerator is expected to influence up to $100 billion in capital flows to climate solutions by 2025.

2) The Biomimicry Institute
The Bentley supported "Ray of Hope Fellowship" aims to support and amplify changemakers leading the way towards a nature-inspired future, helping innovators to scale their solutions in the face of competition from established, extractive businesses. The Fellowship seeks to shorten and flatten this process through programmatic support and content creation, enabling more nature-inspired solutions to make a meaningful impact. The project intends to support 10 startups or around 30 changemakers per year. In the past over 30 per cent have been women-led.

3) Sustainable Surf: Restoring Blue Carbon Ecosystems (Ocean Regeneration)
Sustainable Surf is a California-based non-profit that uses the power of surfing to regenerate the health of our ocean planet and reverse climate change. Mangrove trees, seagrass meadows, and kelp forests have declined drastically due to climate change and human activities. Funding for Sustainable Surf's SeaTrees programme will be used to expand their restoration projects currently operating in Kenya, where 1 million mangrove trees have already been planted, into Europe for the first time with seagrass and kelp projects in Portugal and Spain. The project will support the planting and protection of mangrove trees, seagrass meadows, and kelp forests through three local restoration partners.

The unveiling of the Foundation comes in the wake of the launch of the Bentley Sustainability Council, a team of global experts, created to both challenge and aid the company's pursuit of sustainability excellence outlined in its Beyond100 strategy, as well as the launch of Bentley's first-ever Sustainability Report.

- ENDS –

Notes to editors
Bentley Motors is the most sought-after luxury car brand in the world. The company's headquarters in Crewe is home to all of its operations including design, R&D, engineering, Mulliner and production of the company's five model lines, Continental GT, Continental GT Convertible, Flying Spur, Bentayga and Bentayga EWB. The combination of fine craftsmanship, using skills that have been handed down through generations, alongside engineering expertise and cutting-edge technology is unique to UK luxury car brands such as Bentley. It is also an example of high-value British manufacturing at its best. Bentley employs around 4,000 people at Crewe.