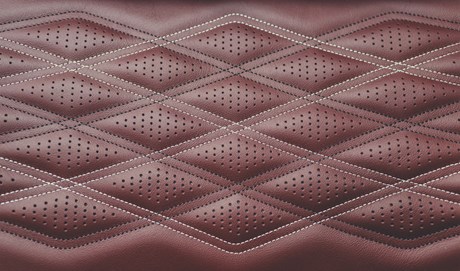 BENTLEY LAUNCHES OLIVE TAN LEATHER WITH MONTEREY DEBUT TO CONTINUE SUSTAINABILITY JOURNEY
British brand introduces first fully organic leather option
New Bentley model featuring Olive Tan Leather to be launched at Monterey Car Week (press conference at 12:15 PST at The Quail)
Tanning agent derived from organic by-product of olive oil pressing
Industry-leading process free from metals, minerals and aldehydes
Bentley becomes first automotive manufacturer to use this industry-leading technology
Another important step in Bentley's sustainable leather strategy after joining Leather Working Group (LWG) as first car manufacturer
(Crewe, 10 August 2023) Bentley Motors is introducing the first fully organic Olive Tan Leather option for customers, as part of its Beyond100 journey to become the leader in sustainable luxury mobility. Known around the world for timeless luxury leather that epitomises elegance, durability and unmatched quality, Bentley is nevertheless constantly looking to improve its sustainable materials credentials, with this new option forming an important next step. Olive Tan Leather will be seen for the first time in a new Bentley model to be revealed at Monterey Car Week, in California, on 18 August.

The distinctive feature of this leather lies in a sustainable leather tanning process that uses an organic by-product of the olive oil industry. Derived from waste water extracted during the olive pressing procedure, the tanning agent remains free of harmful metals, minerals and aldehydes. The technique requires less water than a conventional tanning process and also offers a higher concentration of renewable chemicals. The resulting organic leather is incredibly soft and worthy of the world's most sought-after luxury car brand. Bentley Motors is the first automotive manufacturer to use this industry-leading Olive Mill Wastewater (OMW) technology from the leather tannery, Pasubio SpA.

Olive Tan Leather is another milestone in Bentley's sustainable leather strategy. The British marque already uses leather hides that are a by-product of the meat industry and highly traceable. Annually, global leather production recycles an estimated 270 million hides that would otherwise go to landfill. Leather manufacturing is regarded as a safe, compliant and heavily regulated means of recycling a co-product of the meat industry into a beautiful and sustainable material.

The Olive Tan Leather will be seen for the first time in a new Bentley model to be displayed at Monterey Car Week, in California, on 18 August. Bentley is already planning to offer sustainable, OMW-derived leather as an option across the product range.

Bentley was the first automotive manufacturer to become a member of the Leather Working Group (LWG) in 2021. The industry body sets the benchmark for sustainable leather manufacturing and is in line with Bentley ground-breaking Beyond100 strategy, targeting sustainable mobility leadership.

Marc Stang, Technical Expert Leather at Bentley Motors, said:

"Leather is an integral component of our car interiors and a prime element in creating Bentley's signature finish. It is also hard-wearing – especially important as 84 per cent of all Bentley cars built are still on UK's roads."

"We use eight to 12 hides per car, all of which are sourced in the European Union. Bentley also avoids using hides linked to deforestation, reflecting the work within our supply chain to encourage greener processes. We remain committed to more sustainable leather sourcing, as well as working on other initiatives to improve our leather supply chain."

- ENDS –

Notes to editors

Bentley Motors
Bentley Motors is the most sought-after luxury car brand in the world. The company's headquarters in Crewe is home to all of its operations including design, R&D, engineering and production of the company's five model lines, Continental GT, Continental GT Convertible, Flying Spur, Bentayga and Bentayga EWB. The combination of fine craftsmanship, using skills that have been handed down through generations, alongside engineering expertise and cutting-edge technology is unique to UK luxury car brands such as Bentley. It is also an example of high-value British manufacturing at its best. Bentley employs around 4,000 people at Crewe.

Pasubio SpA
Conceria Pasubio SpA is an industry leading Italian company specialising in creating the finest Automotive leather. Combining a rich heritage of craftsmanship and modern sustainability led innovation, Pasubio offer unique and innovative products for the world's most desirable luxury automotive Brands.