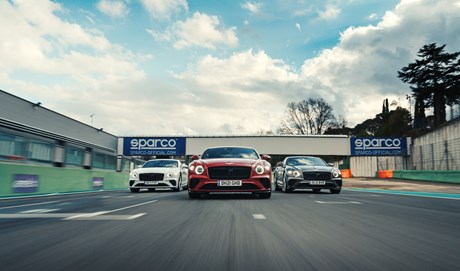 BENTLEY CONTINENTAL GT SPEED NAMED CLASSIC OF THE FUTURE BY THE 'MOTOR KLASSIK AWARDS 2022'
Bentley Continental GT Speed enchants Motor Klassik readers and wins its first-ever award as the 'Classic of the Future' in the Coupé category
Latest recognition for the most dynamic road car in Bentley's history, expanding its trophy cabinet
World's most sought-after luxury car brand recently announced operating profits of 389€ million for 2021, with a strong performance in Europe with a double digit growth and 2,520 cars delivered
in 2021
(Crewe, 20 April 2022) Bentley Motors announces today its first-ever 'Motor Klassik' award from the renowned German automotive magazine Motor Klassik. The Bentley Continental GT Speed, the most dynamic road car in Bentley's 102 year history and ultimate performance-focused interpretation of the world's benchmark luxury Grand Tourer has been elected by over 18,000 readers as 'Classic of the Future' in the Coupé category.

Designed, engineered, developed and handcrafted in Bentley's carbon neutral luxury automotive factory, this new third-generation model builds on a long tradition of Speed variants. Originally introduced with the highly-acclaimed, first generation Continental GT Speed in 2007 – itself inspired by the 3-Litre Speed models of the 1920s. The latest GT Speed continues the bloodline by representing the ultimate combination of luxury and performance in a Grand Touring package.

The new GT Speed is the ultimate performance-focused expression of Bentley's definitive Grand Tourer, yet maintains the luxury, comfort and usability of its siblings. It is equipped with an upgraded version of Bentley's renowned 6.0-litre W12 TSI engine, delivering 659 PS (650 bhp) and an extraordinary 900Nm (664 lb.ft) of torque. Offering an exceptional handling, this results in a top speed of 335 km/h (208 mph) and 0-100 km/h in 3.6 seconds (0-62 mph in 3.5 seconds).

The Continental GT Speed's credentials are further highlighted by a unique duotone colour split handcrafted in hide and matching Alcantara, which is also applied to the steering wheel. The exterior badging is matched with an elegant Speed icon on the passenger fascia.

Balazs Rooz, Regional Director Europe, commented:

'We are proud that the Bentley Continental GT Speed has been awarded by the 'Motor Klassik Award 2022' and seeing the trophy cabinet of the Bentley GT Continental in all its forms to further expand. This latest generation of GT Speed specifically is the ultimate performance-focused interpretation of the world's benchmark luxury Grand Tourer. We would like to thank the Motor Klassik readers for this recognition which also praises the great work done back in Crewe enabling the creation of such a future iconic model of its kind.'

Bentley Motors just announced the luxury marque's financial results for 2021, complementing the company's record sales performance during the same 12-month period. Operating profits rose to €389 million, which was €369 million more than in 2020. Europe made a strong contribution with the delivery of 2,520 cars, a 15 per cent increase driven by evenly split sales across model lines.

For more information on the Continental GT Speed, please visit the Bentley Media site: https://www.bentleymedia.com/

- ENDS –

Press kit Bentley Continental GT Speed:
https://www.bentleymedia.com/en/models/continental-gt/continental-gt-speed

Press release on latest update Beyond100:
https://www.bentleymedia.com/en/newsitem/1301

Press release on Financial results:
https://www.bentleymedia.com/en/newsitem/1311-bentley-posts-record-financial-performance-in-2021

Press release on Growth in Europe:
https://www.bentleymedia.com/de/newsitem/1292-bentley-charges-to-record-year-with-unprecedented-demand-for-luxury-hybrid-models

Notes to editors

Bentley Motors is the most sought-after luxury car brand in the world. The company's headquarters in Crewe is home to all of its operations including design, R&D, engineering, Mulliner and production of the company's three model lines, Continental, Flying Spur, and Bentayga. The combination of fine craftsmanship, using skills that have been handed down through generations, alongside engineering expertise and cutting-edge technology is unique to UK luxury car brands such as Bentley. It is also an example of high-value British manufacturing at its best. Bentley employs around 4,000 people at Crewe.