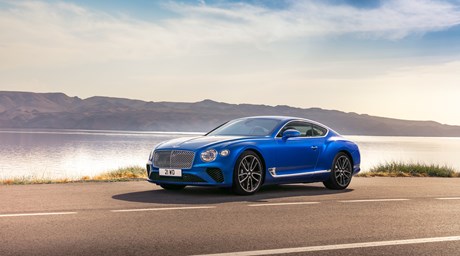 INTELLIGENT STRUCTURE WITH A MUSCULAR ALUMINIUM SKIN
The core of the new Continental GT body structure is composed of an efficient, optimised mix of materials, developed to minimise weight whilst maintaining stiffness and strength. A balance of steel and aluminium in sheet, cast and extruded form provide the high-strength structure meeting all worldwide regulations, including the most demanding durability, crash, stiffness and structural-stiffness requirments.
The highly sculpted surface of the body is impossible to achieve without utilising Super-Plastic Forming ("Super Forming") technology developed in the aerospace industry. Aluminium is heated to more than 500 degrees Celsius, then air pressure is used to push the material into a mould. Using air pressure rather than a conventional two-piece mould tool means incredibly tight radii and depth of form can be achieved within each panel, delivering the definition that the Continental GT's design lines and surfaces demand.
All exterior panels are crafted in aluminium with the exception of the boot lid, which is moulded in a composite material to allow for the discreet sub-surface inclusion of all vehicle antennae and a complex styled form.
The optimisation of materials throughout the body delivers an 85 kg weight saving over a body crafted entirely in steel – a reduction of nearly 20 per cent.
In order to deliver the best-in-class refinement demanded by our customers, more than 50,000 engineering hours have been invested in developing the Continental GT's structural performance. The most challenging global torsional and bending stiffness targets ever set for a Bentley have been achieved, and each critical path for sound and vibration has been analysed, with design solutions identified and implemented throughout the entire body structure for optimum NVH performance.
The weight distribution of the new Continental GT sees an improvement over the previous generation, by moving the front wheels forward by 135 mm. With a typical Grand Touring occupancy of two adult passengers and light luggage, the weight distribution has changed from 58:42 to 55:45, and that distribution becomes 53:47.